I have had several blogs in the past using a variety of different sites, yet I keep coming back to Blogger. It is so much easier to use and to navigate your way around the site than the others. With a smile on my face as the familiar orange and white logo pops up on my screen today, I feel like I've just walked through the door of my second home.
Its funny how we can become attached to things so easily. I remember my parents once buying me a cuddly snow tiger as a birthday present when I was young. I loved that little tiger with all my heart. It would go everywhere that I went, snuggled in the crock of my arm where I pretended it was my baby. It slept with me every night (well the nights that I didn't end up losing him behind the sofa or leaving him outside in the rain anyway!). Then one day I just woke up, left him beside my pillow and walked away. He has been there ever since.
Does that help to explain why I have abandoned so many of my blogs?
I just became bored of them I guess. I had tried to model them on other people's blogs that I had seen but they were never about the things I liked to do. I like photography, cooking, music, reading and the thing that probably inspired this blog more than anything else, writing.
The English language is a beautiful thing, without it I would not be able to communicate with you today nor do the things that I love. Language in general is an art which is maybe why I am so obsessed with Chinese symbols. They don't use letters like we do, its more like drawings and its incredibly beautiful but difficult to do. Below are my top three favourite symbols. Aren't they just beautiful :
1) The Chinese symbol for love: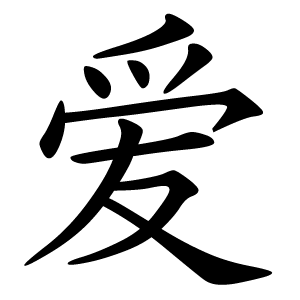 2) The symbol for family, one of the most important things to me:
3) Smile!This is the symbol for happiness:
Lets just hope that I don't abandon this blog as well and that you will love it just as much as I love doing it.