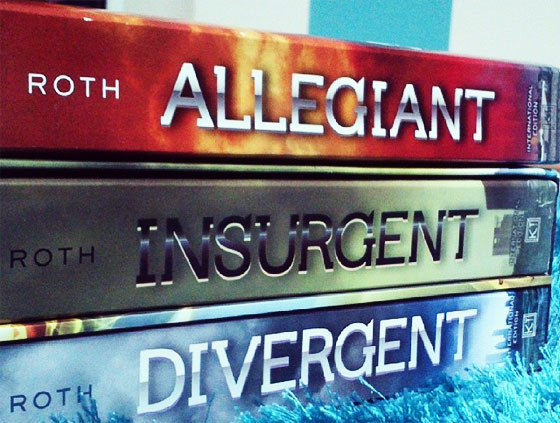 Source
I spent most of my 6 weeks reading the 3 books in this series by the very talented Veronica Roth, and now I'm having withdrawal systems! I never thought I could miss fictional characters like this. Is that sad?
Divergent (Book 1):
I actually went to see the
film
before reading the book, out of boredom more than anything. And thank god I did! It just goes to prove that films are just as good as books, since this was the story plot played out on the cinema screen in front of my eye that gave me the
Divergent Bug
.
Defined as:
being forced by one's self to buy ALL three books even though one said one wasn't going to say any more until Christmas, scrolling through the Internet for 'fandom' pictures and jumping around with pure excitement when one found out they were going to make a second film!
Insurgent (Book 2):
This book is my favorite of them all simply because of the amazing plot line, the new characters like Evelyn and Jack that we meet and as well as being reintroduced to some oldies, There is SO much going on in this novel, it's unbelievable with a lot of dramatic fight scenes too! And the ending...
well
what a shocking cliffhanger that was. If there was an award for Best Cliffhanger Of The Year this book would win it by a mile. You just HAVE to read the next book whether you like it or not!
Alligent (Book 3):
I was so desperate to get to the end of the this book to see how it ended, but also so desperate for it to go on forever. Alligent however is different from the other two books as it is not only narrated by Tris Prior but also Tobias! For the first time you get to dive deep into his thoughts and have your questions finally answered. You really do get to see his true personality, especially towards the end. I must warn you though that this is a massive tearjerker of a novel. I don't think I have ever cried more- a mixture of finishing the book and finding out how it ends. IT WASN'T MEANT TO END LIKE THAT!!
Overall an amazing, gripping trilogy about love, loss, courage, sacrifice and ultimately forgiveness.
Have you read this trilogy?
Love Beth xx